Motorcycle and car insurance may seem similar initially, but the two have some crucial differences. Both types of policies provide coverage for property damage, bodily injury, and liability. Motorcycle riders have specialized coverage that you won't find in a car insurance policy.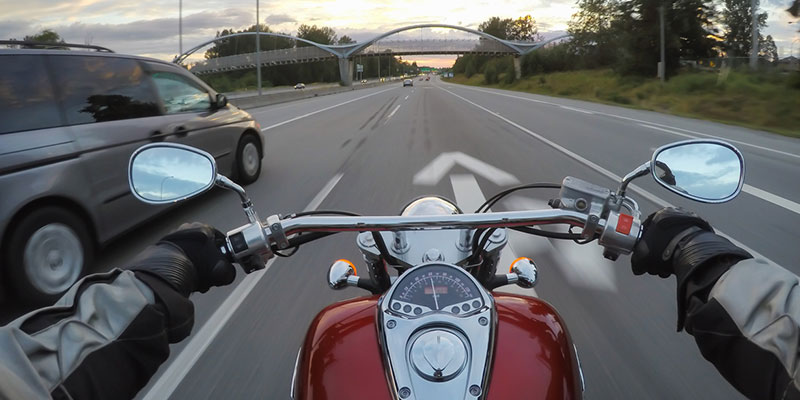 Accessory Coverage. This covers any aftermarket parts and accessories added to your motorcycle, such as custom paint jobs, chrome parts, or saddlebags.
Trip Interruption Coverage. If your motorcycle breaks down during a trip, this coverage can help with expenses like food, lodging, and transportation.
Uninsured/Underinsured Motorist Coverage for Motorcyclists. In case you're involved in an accident with a driver with insufficient or no insurance, this will cover you.
Motorcycle Insurance Policy Costs
The costs of motorcycle and car insurance can vary significantly, with several factors influencing the premiums for each. These items will affect the cost of your policy.
Type of motorcycle. High-performance or luxury motorcycles may have higher insurance premiums than standard models.
Rider's age and experience. Young or less-experienced riders may have higher premiums due to the increased risk of accidents.
Urban areas with higher traffic volumes and theft rates can increase motorcycle insurance premiums.
Motorcycle riders face unique risks on the road that can impact their insurance coverage and premiums.
Injury Risk. Motorcycle riders are more vulnerable to severe injuries in accidents compared to car drivers. As a result, motorcycle insurance policies often include higher medical payment coverage limits.
Theft Risk. Motorcycles are easier to steal than cars, which can lead to higher comprehensive coverage premiums to protect against theft.
At Morco Insurance Agency, we understand the unique insurance needs of motorcycle riders and are committed to helping you find the perfect coverage. As an independent insurance agency, we offer free quotes from top carriers and can ensure you have the right motorcycle insurance coverage for your needs.
Our knowledgeable and friendly agents will guide you through selecting the ideal coverage, considering your circumstances and the differences between motorcycle and car insurance. Contact us for a free quote and personalized assistance finding the right motorcycle insurance policy.